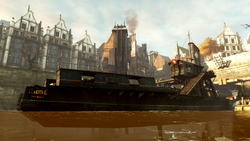 The Undine is the flagship of Lizzy Stride and the Dead Eels gang, introduced in The Brigmore Witches. It is a cargo ship used to smuggle goods along the Wrenhaven River. Daud seeks the ship for the purpose of passing Dunwall's river blockades. However, upon meeting Lizzy Stride, he discovers that it has been taken from her by her treacherous second-in-command, Edgar Wakefield. In return for use of the ship, Daud swears to help Lizzy retrieve it.
The Undine consists of three levels. Though most of the ship is open, the lower level can only be accessed from the first level or through a hatch underneath the ship. It is powered by whale oil, but has been incapacitated after the engine coil was stolen by the Hatters.
Trivia
The Gangs Of Dunwall achievement is obtained by restoring the Undine to working condition.
The ship is evidently fairly old, as Lizzie remarks that engine coils for ships like the Undine aren't made anymore.
Gallery
Ad blocker interference detected!
Wikia is a free-to-use site that makes money from advertising. We have a modified experience for viewers using ad blockers

Wikia is not accessible if you've made further modifications. Remove the custom ad blocker rule(s) and the page will load as expected.