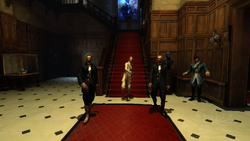 Timsh's Daily Business
is an
audiograph
found in
The Knife of Dunwall
, recorded by
Arnold Timsh
.
Transcript
Benedict, I need to know what you expect regarding the Danforth Holding Company. They're only a month late and they've been good for it in the past. Normally I wouldn't hesitate to invent a plague infection complaint against them and have all of their assets seized, but they have a link to the Boyles and they, as you know, are on the do-not-touch list. It's hitting a little too close to home. I am afraid you may have to settle your dispute with them by some other means.
Location
It can be found on Barrister Timsh's desk in his office, during the mission Eminent Domain.
Ad blocker interference detected!
Wikia is a free-to-use site that makes money from advertising. We have a modified experience for viewers using ad blockers

Wikia is not accessible if you've made further modifications. Remove the custom ad blocker rule(s) and the page will load as expected.