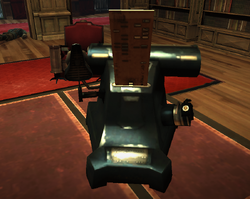 Timsh's Message To His Mother is an audiograph found in The Knife of Dunwall, recorded by Arnold Timsh.
Transcript
Mother, this is Arnold. If you happen to awaken while no-one is present, I've prepared this for you to remind you of recent events to help clear your mind and put you at ease. The plague has ended. I have married and will become prime minister, just as you always wanted. My sister and brother are both here and doing well. Your last will and testament has been written and approved. We all love you, Mother. Now, go back to sleep. Rest. Everything is fine.
Location
It can be found on Timsh's desk in his quarters, during the mission Eminent Domain.
Ad blocker interference detected!
Wikia is a free-to-use site that makes money from advertising. We have a modified experience for viewers using ad blockers

Wikia is not accessible if you've made further modifications. Remove the custom ad blocker rule(s) and the page will load as expected.