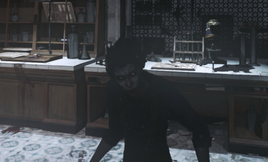 To Whomever Finds my Body is a written note found in Dishonored 2.
Transcript
I know I'm dying, haunted by failure. I couldn't save Dr. Hypatia from herself.
If someone finds this note, please don't blame her. She has no idea what her other self is doing. She doesn't know the monster she has become.
If only I had been braver, maybe I could have cured her. If it's not too late, please, I beg of you, prepare the antidote and save her. The instructions are in my personal safe. The code is [three digit number].
Location
The note can be found on Vasco's dead body after he is killed at the Addermire Institute during the mission The Good Doctor.
Trivia
Ad blocker interference detected!
Wikia is a free-to-use site that makes money from advertising. We have a modified experience for viewers using ad blockers

Wikia is not accessible if you've made further modifications. Remove the custom ad blocker rule(s) and the page will load as expected.