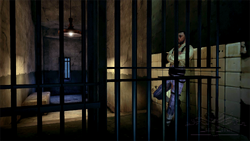 Transfer Orders is a written note found in The Brigmore Witches.
Transcript
Lt Wright,
The Hatter we brought in was trying to stash his loot in the canal when we busted him. Looks like he's the one who hit Lord Brimon's carriage a few nights back. So far he has not named his accomplices, but he will once he gets his turn in the Interrogation Room. Document everything and then deliver it to the Lord Regent's office. And make sure none of it gets "lost" along the way or it's both our heads.
- Ashfield
Location
It can be found in Coldridge Prison in the interrogation room beside an overturned box with several gold ingots.
Ad blocker interference detected!
Wikia is a free-to-use site that makes money from advertising. We have a modified experience for viewers using ad blockers

Wikia is not accessible if you've made further modifications. Remove the custom ad blocker rule(s) and the page will load as expected.