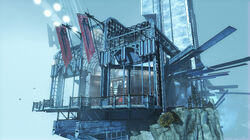 Bethesda
has just announced three DLC packs for
Dishonored
- yes, three! First up,
Dunwall City Trials
will launch this December and include 10 challenge maps. These include arena battles against waves of enemies, a run of drop-assassination tasks, and speed-run requirements.
Dunwall City Trials
will launch for $4.99 and will come with its own set of achievements (sorry, no EU pricing known as of yet).
The subsequent DLC packs will launch sometime in 2013 and, most importantly, are their own contained story-driven missions. While the names of the DLC packs are still unknown, we know Daud will be the main protagonist in the second content pack. Daud will have his own weapons, powers, and tools at his disposal as well.
This is really exciting news for Dishonored fans. Wjat do you think about the shift to Daud's story and what story origins would you like to see in the third content pack?
Ad blocker interference detected!
Wikia is a free-to-use site that makes money from advertising. We have a modified experience for viewers using ad blockers

Wikia is not accessible if you've made further modifications. Remove the custom ad blocker rule(s) and the page will load as expected.