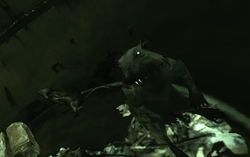 Vermin Problem is a written note found Dishonored 2.
Transcript
Curator Ashworth,
So awfully sorry to tell you this, but there's something each night been nibbling on some of your exhibits. The big one that looks like clouds and swine, if you'll pardon my untrained eye.
It's them rats in the walls. I sure hope nothing is ruined.
I don't know what they like so much about it to come back every night and eat more of it. I was wondering what it's made of, but whatever it is, it's tempting for the little bastards.
Glen,
Night Custodian
Location
The note can be found in the basement of the Royal Conservatory during the mission of the same name.
Ad blocker interference detected!
Wikia is a free-to-use site that makes money from advertising. We have a modified experience for viewers using ad blockers

Wikia is not accessible if you've made further modifications. Remove the custom ad blocker rule(s) and the page will load as expected.