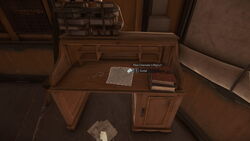 Vice Overseer's Report is a written note found in Dishonored 2.
Transcript
The Howler detainee downstairs gave us key details pertaining to his criminal associates and their heretical leader, Paolo. Debauchery at all hours, and acts of certain witchcraft, the likes of which even our sacred music cannot dispel. Paolo is every bit as vile and corrupt as we suspected.
With his dying breath, the detainee revealed that the Duke himself has Paolo sending food into the barred and shuttered home of Aramis Stilton. The place is kept secure by the so called Jindosh Lock. No doubt the Duke obtained the lock combination from Jindosh, and Paolo passed it to the detainee. The weave of corruption is endless.
Location
The note can be found in the Vice Overseer's office in the Overseer Outpost during the mission Dust District.
Ad blocker interference detected!
Wikia is a free-to-use site that makes money from advertising. We have a modified experience for viewers using ad blockers

Wikia is not accessible if you've made further modifications. Remove the custom ad blocker rule(s) and the page will load as expected.