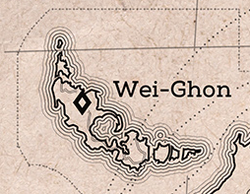 Wei-Ghon is a city located on an island chain northwest of Tyvia. The place is said to be particularly striking during the Month of Earth.[1]
Trivia
High Overseer Yul Khulan hails from this city.[1]
"Wei" is a Chinese family name, that either means "power", "lofty", "great" in the masculine sense, or "rose", "small" in the feminine sense.
References
Ad blocker interference detected!
Wikia is a free-to-use site that makes money from advertising. We have a modified experience for viewers using ad blockers

Wikia is not accessible if you've made further modifications. Remove the custom ad blocker rule(s) and the page will load as expected.