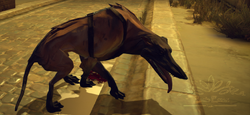 Wolfhound Kennels is a written note found in Dishonored 2.
Transcript
Groundskeepers, remember to make your rounds!
At the end of the evening, all hounds should be in their kennels, with the doors locked tight. we don't want them roaming the grounds at the night, or, worse, entering the building.
Mister Stilton often entertains guests at odd hours, and it wouldn't do if Meagan Foster, or one of Mister Stilton's gentlemen, received a dog bite.
Location
The note can be found during the mission A Crack in the Slab, in the front yard of Aramis Stilton's mansion.
Ad blocker interference detected!
Wikia is a free-to-use site that makes money from advertising. We have a modified experience for viewers using ad blockers

Wikia is not accessible if you've made further modifications. Remove the custom ad blocker rule(s) and the page will load as expected.