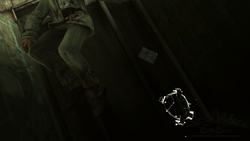 Written In Blood is a written note found in The Knife of Dunwall.
Transcript
You are safe now. No one can find you here. No one. No one can reach you here. I almost died trying, and I am a better climber than any of them. But you gave me claws for the climb! You want me as much as I want you. We will stay here until they have forgotten about us. We will stay here for as long as it takes. I feel like sleeping. Don't leave while I sleep, because I need you. I will stay as long as I can. Forever.
Location
It can be found along with a rune and a laborer corpse in a high alcove in the Rothwild Slaughterhouse during the mission A Captain of Industry.
Ad blocker interference detected!
Wikia is a free-to-use site that makes money from advertising. We have a modified experience for viewers using ad blockers

Wikia is not accessible if you've made further modifications. Remove the custom ad blocker rule(s) and the page will load as expected.